Fairport Club Membership
Benefits to members of the Fairport Club include:
1800 toll FREE Telephone technical support on Fairport software
FREE Remote Support via the Internet

FREE Incremental release updates: ( eg: PAM 8.0.0 to PAM 8.0.1)

Discounted (or Free) version upgrades: ( eg: PAM 7 to PAM 8)

Discounts on any other products Fairport may offer you on a direct-mail basis (eg: MAX for Windows)

Help Notes

Discounts on services required of Fairport Technologies (ie: Data recovery, data merging)
Non Fairport Club Members will be charged for support $45/15 min block or part thereof.
The way it works:
For those customers who have just purchased a Fairport software package, you are automatically placed into the Fairport Club.

New Fairport customers receive a complementary 6 month Fairport Club Membership for products over $1000 and a 3 month Fairport Club Membership for products under $1000.

Fairport Clients that purchase add-on modules to existing software will have to be Current Fairport Club Members (or rejoin the Fairport Club at the renewing member rate) and will not receive any additional membership past their current expiry date.

Membership renewal cost varies according to how many licences you have purchased and the types of programs, the add-on modules etc.

The minimum renewal cost is $125 (exc GST) for 12 months membership, however if you own more than one product, your annual renewal is approx 15% of the combined current product purchase price (excluding standard site licenses but including data merge and network site licenses ).

Should the Fairport Club Membership fall into expiry the re-joining fee will be calculated as follows;
20% (expiry greater than 3 months up to 12 months),
30% (greater than 12 months up to 24 months),
45% (greater than 24 months up to 36 months),
60% (greater than 36 months),
of the combined current purchase price of the products owned.

Enterprise Edition clients have individual tailored support and maintenance contracts.
Terms of Membership:
1. Free Software Upgrades
Fairport Club Membership entitles subscribers to upgrades without charge if such upgrades become available during the term of your subscription. FAIRPORT does not warrant that there will be any upgrades to the FAIRPORT software during the Fairport Club Membership subscription term. Occasionally, software updates may be available free of charge only as a download from the FAIRPORT web site, in which instance a shipping and handling fee will apply for a CD to be sent.
2. General Policies
FAIRPORT reserves the right to limit each telephone call to half an hour and to limit each call to one incident, which is defined as a single support issue or question. In fairness to all FAIRPORT club members, FAIRPORT may also limit or terminate support service to a customer who uses the service in an irregular, excessive, abusive or fraudulent manner. Terms, conditions, support features, procedures, pricing and support availability are subject to change at any time without notice. Fairport Club Membership benefits only apply to the FAIRPORT product for which the Fairport Club Membership subscription is held.
3. Service Availability
Support is limited to 12 months from the date of subscription to Fairport Club Membership. Service availability may occasionally deviate from stated hours due to downtime for systems and server maintenance and observed Australian Public Holidays. FAIRPORT cannot guarantee that you will not experience some delay in having one of our technical support consultants answer your query - as call volumes fluctuate so too will response time.
4. Support Topic Limitations
Enquires are limited to the following FAIRPORT product areas: installation, upgrade assistance, basic usability and basic functionality, as described in FAIRPORT product documentation. FAIRPORT does not claim to resolve connectivity issues caused by third-party services, service providers, hardware or software, or networking problems. Fairport Club Membership phone support does not cover application consulting or training. The determination of the nature of your query for these purposes will be made by our technical support consultants.
Fairport Agents
Queensland | Victoria | NSW
South Australia | Western Australia | Tasmania | Northern Territory
New Zealand | Canada | China | USA | South America
South Africa | Ukraine | Russia | Georgia
Fairport Farm Software
Sales : 1800 500 195
This email address is being protected from spambots. You need JavaScript enabled to view it.
Greg Dearman
Farm Business Systems Pty Ltd
44 Barnes Blvd
Horsham VIC 3400
Mobile: 0427 823 845
This email address is being protected from spambots. You need JavaScript enabled to view it.
Fairport Farm Software
Sales : 1800 500 195
This email address is being protected from spambots. You need JavaScript enabled to view it.
Craig Humphris
Down to Earth Rural Computing
PO Box 102
JAMESTOWN SA 5491
Phone: 0407 586 640
Fax: (08) 8665 3225
This email address is being protected from spambots. You need JavaScript enabled to view it.
Greg Dearman (South East Areas)
Farm Business Systems Pty Ltd
69 Federation Ave
Horsham VIC 3400
Mobile: 0427 823 845
This email address is being protected from spambots. You need JavaScript enabled to view it.
Fairport Farm Software
Sales : 1800 500 195
This email address is being protected from spambots. You need JavaScript enabled to view it.
Fairport Farm Software
Sales : 1800 500 195
This email address is being protected from spambots. You need JavaScript enabled to view it.
Fairport Farm Software
PO Box 7041
Spearwood WA 6163
Phone: (08) 9367 5814
Fax: (08) 93675823
This email address is being protected from spambots. You need JavaScript enabled to view it.
Fairport Farm Software
PO Box 7041
Spearwood WA 6163
Phone: (08) 9367 5814
Fax: (08) 93675823
This email address is being protected from spambots. You need JavaScript enabled to view it.
Dealer Enquiries Welcome

CHINA
Yolanda Yu
Beijing Natural Forever Agriculture Technology Co,Ltd.
Telephone: 13811961016.
Location: Beijing-Yanqing
Email: This email address is being protected from spambots. You need JavaScript enabled to view it.
Fairport Farm Software
PO Box 7041
Spearwood WA 6163
Phone: +618 9367 5814
Fax: +618 93675823
This email address is being protected from spambots. You need JavaScript enabled to view it.
Distributor Enquiries Welcome
BRAZIL
Accuracy Comercio e Servicos em Tecnologia Ltda
Rua Emilio Mallet 862 - SL 34
São Paulo - SP - Capital 03320-000
Phone: +55 11 2528 1087
This email address is being protected from spambots. You need JavaScript enabled to view it.
Fairport Farm Software
PO Box 7041
Spearwood WA 6163
Phone: +618 9367 5814
Fax: +618 93675823
This email address is being protected from spambots. You need JavaScript enabled to view it.
Fairport Farm Software
PO Box 7041
Spearwood WA 6163
Phone: +618 9367 5814
Fax: +618 93675823
This email address is being protected from spambots. You need JavaScript enabled to view it.
Dealer Enquiries Welcome

Annerie Boshoff
"Your Precision Farming Specialist"
Free State
South Africa
Phone : + 27 (0)84 381 5116
This email address is being protected from spambots. You need JavaScript enabled to view it.
Fairport Farm Software
PO Box 7041
Spearwood WA 6163
Phone: +618 9367 5814
Fax: +618 93675823
This email address is being protected from spambots. You need JavaScript enabled to view it.
Dealer Enquiries Welcome
Business-Logic LLC
Moscow
Phone: +7 495 105 9685
+7 916 051 2231
This email address is being protected from spambots. You need JavaScript enabled to view it.
GEORGIA
YFN Georgia LLC
Dr Simon Appleby
Makhashvili Street 31
Tbilisi 0108
Republic of Georgia,
Phone: +995 322 47 1324
This email address is being protected from spambots. You need JavaScript enabled to view it.
About
Fairport develops quality software for the agricultural and horticultural industries.


We started our journey in 1988 in Western Australia - Australia's (and one of the world's) harshest and most demanding farming environments. Some have said that if we'd started out anywhere else, the software would not be as good as it is ... That is, if you can satisfy the needs of farmers in Western Australia, the software must be OK.
Fairport works with and alongside industry leaders, governments, agricultural education institutions, national and state research organisations and some of the world's largest and best run agricultural companies. We have formed software commercialization partnerships with research organizations and have been selected to form partnerships with world leading agricultural machinery companies, chemical manufacturers, produce acquirers in various projects over many years.
We are proud to be supporters and sponsors of Nuffield Farming Scholarships - giving a bit back to the industry that has stood by us over many years.
PAM (Process. Analyse. Manage.), Fairport's flagship product, was first released in March 1989 and has become the "Standard" for agricultural recording in Australia. Now the Fairport suite of software products are are used across many countries around the globe.
We believe some of the reasons for our success over many years are:
We are owned and operated by people with a background in farming
We are always prepared to listen to our clients - we know that without them we'd be nobody
We have never been complacent - we have always strived for ways to better our products and services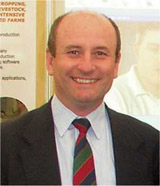 THE FAIRPORT TEAM
CEO, Managing Director

In 1988 Roger made a career move from farming to software developer when he founded Fairport Technologies. Roger operated the company as a one man band until 1992 when the workload overwhelmed him and the company's growth demanded a bigger workforce.
Roger stills dabbles in software development, but growing the business and overseeing the direction of the software development process are his greatest passions. Roger's skills, leadership & determination have grown the company to be the supplier of the most popular Agricultural software in Australia and a highly respected software development consultancy.
Colin Booth


Marketing Director

Colin has been fully engaged in the farm software industry since the mid 1980's when he was a partner in the CountrySoft business in Australia. From 1991 until 2008, Colin managed and owned Booth Technology, Fairport's Western Australian distributor.
Colin grew up on a "wheatbelt" farm and after leaving school attended and graduated from Muresk Agricultural College.
It would be hard to find a more knowledgeable and experienced farm software expert and marketer.
Colin joined Fairport in July 2006.
ADMINISTRATION TEAM

Suzanne Eaves
Office Administrator
Suzanne joined the Fairport Team in January 2015 and is in charge of the day to day Office procedures including Accounts and Fairport Club Memberships. Suzanne is a very experienced office administrator, having worked in administration for the past 23 years.
Suzanne will usually be your first point of contact if you ring our office.
SUPPORT & DEVELOPMENT TEAM


Manuel Silva Castilla
IT and Technical Support
Manuel arrived at Fairport in October 2012. He holds a Masters Degree in IT from Curtin University and a Bachelor Degree from Columbia. He has had a background in a multitude of IT areas and also in database design and development. On top of all his IT and software skills, Manuel is a native Spanish speaker so is a great asset to the Fairport team when it comes to dealing with our South American clients. Manuel is also developing and maintaining various small in-house utility software applicaitons.
Fairport's Contractor Team
We have a fantastic team of 'offshore' contractors who help us with software development, foreign language translation work and associated tasks.
Our in-house software development team...
Ben Gooch
Software Engineer
Ben has been working in the computer industry for over 15 years and has worked on a number of diversified projects. Ben's experience has exposed him to different technologies including real time GPS/DGPS navigation and communications, Handheld PDA devices, POS Terminals and desktop/server application development.

Ben joined Fairport in 1998 and has played an integral part in the development of PAM and associated software packages.
Darren McGlenchy
Software Engineer
Darren joined Fairport in 2001. He has a broad knowledge in software development and current database technologies. He has made great progress with Fairport's line of Livestock software including full redevelopment of the Individual Animal Recording system.