The latest Fairport News
Page 12 of 19
Thursday, December 18th 2014
In this issue
Roger's Ramblings
Running PAM on a Mac
PAM SaaS
What's New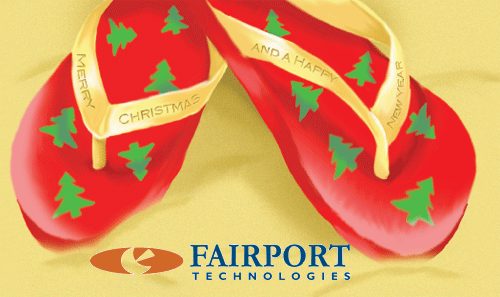 Season Greetings from the Fairport Team!
Roger's Ramblings
The Fairport team and I extend our thanks to all our clients for your ongoing support. We also extend a warm welcome to all new clients joining us in 2014.
Another year comes to an end. I hope you are all able to take some well earned rest over the festive season and enjoy the company of your family and friends.
We will be closing down the office from Midday on December 24th and returning on Monday the 5th of January 2015.
The Fairport team has been very busy as usual this year. Three months ago we welcomed our newest member of staff, Jacob, who has fitted in nicely.
Travel-wise it has been quieter than usual since the mid-year newsletter. Colin has made several trips to Eastern Australia on presentations and training missions. The second half of the year became quite active for new PAM Enterprise clients. Many companies that had been showing interest in it for several years made the decision to jump onboard.
My two trips to Saudi Arabia in April and June are bearing fruit. Early in 2015 a delegation from Saudi Arabia will be traveling to Australia to visit some of our clients who are running PAM Enterprise and PocketPAM systems. We also have plenty of action happening in Ukraine, despite the war, as our man in Kiev, "Bo", continues to make great progress with the larger grain growers in that region. In fact, this week he has been in Stavropol, Russia, training PAM clients.
Earlier we announced that by the end of this year we will have delivered the following:
PDP Lite
– designed mainly for consultants to create VRT projects for clients. This is downloadable from the main "PDP" page of the web site. PDP Lite provides an importer for the common SHP file type and then a comprehensive variable rate application recipe map builder. The resulting recipe map can be exported to a number of different variable rate controller types.
PAM's New Zealand Sustainable Wine Growers data exporter.
A team here worked on this project for several months. It is now built into the PAM viticulture software and becomes enabled when you choose "New Zealand" as your country.
Running PAM on Mac
We receive many calls these days from people asking if PAM will run on a "Mac" ... The answer is Yes. In fact I run a Macbook Pro and so does Colin. in my case I run software called "Parallels" which enables me to run both Windows software and Mac software side by side. In Colin's case, he runs permanently in Windows on his Mac. That is, he doesn't run any Apple software, boots up in Windows and stays in Windows. To do that, he uses software called "Bootcamp".
PAM SaaS - Convenience !
PAM SaaS, our "hosted" PAM system that was launched in 2003 (yes 11 years ago), continues to attract more and more clients for its convenience. Earlier this year, the growing number of client databases forced us to move the PAM SaaS system from our premises to a data centre located near the Perth CBD. If you are running a Mac computer then this is another way to run PAM. PAM SaaS will run in a Mac without the need for either "Parallels" or "Bootcamp".
If you have an internet connection, you can run PAM SaaS on any PC or Mac or iPad....
Software upgrades
Fairport takes care of all software upgrades on PAM SaaS. Meaning - No more do you need to download & install PAM software !


Data Backups

All data is backed up nightly



Does PocketPAM2 work with PAM SaaS?

It sure does. There is a special "PAM SaaS" option in PocketPAM2 for exchanging data with PAM SaaS
What's New
PocketPAM2.2

We have a team here and offshore working on a complete rebuild of the PocketPAM2 App from the floor up to catch up with the changes in technologies since we released PocketPAM2 around 2 years ago. We expect to finished the development work on this early next year and then proceed to final testing. There are a lot of very nice new features coming in this upgrade. Stay tuned.
gpMapper.Net
Our new man, Jacob has been building a new version of gpMapper from the ground up. This is a complete rebuild. The program looks (and feels) completely different to the old gpMapper and is based on the very latest technology. We are very excited about this new product. We think our current gpMapper clients will love it.
The rest of the team is working on some major new projects that we hope to bring online during 2015. It's too early to announce these yet, but you can rest assured that we will be letting you know as soon as we're getting close to making them available.
In Closing
The Fairport Team wishes all our valued clients the very best for the festive season and for 2015. May the new year bring great luck and prosperity to you all.